History
The partnership of Armour, Armour & Harris was formed in 1973, when Mr. Joffrey C. G. Harris, SC resigned from the public service and went into private practice partnership with Jenner B. M. Armour, SC. For the next two and a half decades the firm developed an unparalleled reputation for integrity and excellence in criminal and civil litigation as well as in conveyancing, labour law, intellectual property law, family law and aspects of corporate and banking law.
In 1998, Mr. Harris was called to the inner bar and the firm became the only firm on island headed by two Senior Counsel.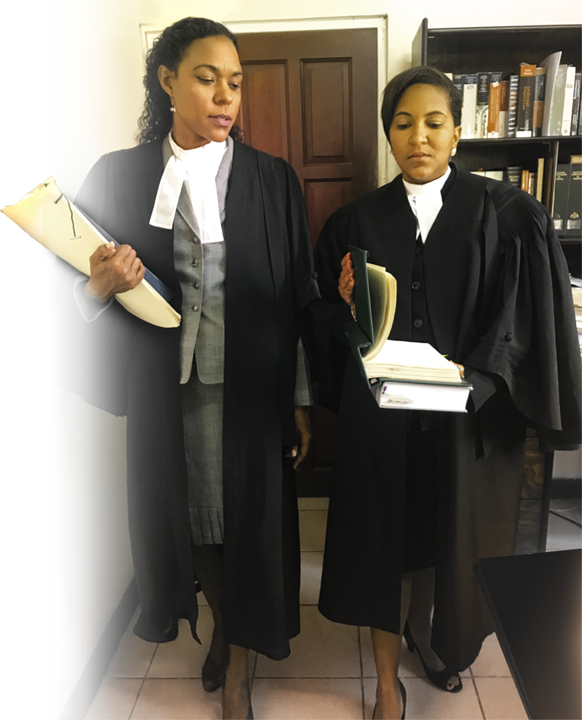 Ms. Joelle A. V. Harris joined the firm in 2001, having graduated from the Hugh Wooding Law School. She became partner at Armour, Armour & Harris in 2002.
The firm was renamed Harris & Harris in 2004, following the passing of Mr. Armour in 2001. However, the firm continued to thrive under the experienced leadership of Mr. Joffrey Harris, SC.
In 2012, Ms Joelle Harris obtained a Masters in Environmental Law. During this program she enrolled in the UN Diplomacy Practicum at Pace Law School where she gained valuable experience in International and Environmental law while interning with the Permanent Mission of the Republic of Trinidad and Tobago to the United Nations. Ms. Harris remained with the firm except for the period from June, 2013 to May, 2015, when she worked as Solicitor General to the Government of Dominica there obtaining a wealth of knowledge and experience in administrative law litigation and various aspects of governance.
Mrs. Noelize N. Knight Didier joined Harris & Harris in 2013, as partner, having previously provided associate services to the firm from 2013-2015 (during Ms. Harris' absence). Mrs Knight Didier has extensive civil litigation experience in many areas of law including family law, tort, labour law, mortgage recoveries, land law and aspects of corporate law. On occasion she has been openly commended by High Court Judges and Justices of Appeal of the Eastern Caribbean Supreme Court for her advocacy ability.